Hailing from the bogs of the black swamp, deep in the cut of corn country, Ohio's Yesterday's Hero is an alternative metal quintet fueled by backroad burnouts and small-town shenanigans. Blending high-energy grooves with timeless melodies, their music will make you hit repeat. Having shared the stage with bands Escape the Fate, Powerman5000, The Convalescence, and Gemini Syndrome, among many others, they will be releasing their first full-length "Ways To Hate" this coming November 2023.
Fueled by broken hearts, and personal turmoil, vocalist Chris Neller had unlimited lyrics when the band was ready to hit the studio to create the album. "Ways To Hate" features previous re-recorded tracks from their 2021 debut EP "Killing Me" along with a few new songs such as "What I Needed", "Bounce" and the title track "Ways To Hate" to complete the seven-song album sure to get your blood pumping and moshing in the pit. The band prides itself on using raw gritty tube amps, no backing tracks or plug-ins. There is no need for a laptop as they intentionally step back from today's norm. They explain further:
"In a digital age of singles, we are going analog and releasing an album. Why? Because when you hear a song as it finishes your head is already starting the next song. Thus must be passed on. The songs are arranged in an order specifically to create a feel. You can't do that with singles! We write with simple intentions. Simple catchy riffs with relatable lyrics. The nostalgic taste of our music experience with a bit of new raw live sound."
The band has two previously released singles accompanied by videos, "Be", a song that describes the frustration of having a partner who is constantly blame-shifting, and "Life's So Good", a simple banger inspired by the rebirth of oneself focusing on the positive.
"Life is good and it's even better without the pressures of trying to please someone else." adds vocalist Chris Neller.
Both videos can be viewed and heard at the following links:
Be – https://youtu.be/iI3WQ7LoNMQ​
Life's So Good – https://youtu.be/UdtbpNH7LGM​
Recommended for fans of Chevelle, Rise Against, Killswitch Engage, Godsmack, and Seether, Yesterday's Hero's first full-length is due out on November 24th, 2023, and is available for pre-order at https://distrokid.com/hyperfollow/yesterdayshero/ways-to-hate.
Show Dates:​
Nov 11 – Howard's Clun H – Bowling Green, OH (Broadwing Tattoo Veterans Day Concert)
Nov 18 – The Viaduct – Tiffin, OH (Album Release Show)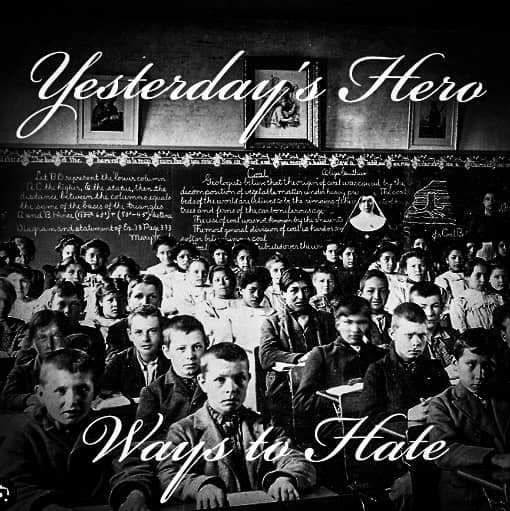 ​
Track Listing:​
1- Killing Me (3:43)
2- What I Needed (4:06)
3- Ways to Hate (3:38)
4- Bounce (4:12)
5- Be (3:46)
6- Road of Doom (5:26)
7- Life's So Good (3:46)
Album Length: 28:36
Band Lineup Live and Recording​
Chris Neller – Vocals
Nathan Fike – Lead Guitar
Tony Smith – Guitar
Bill Mizen – Bass
Byron Ferguson – Live Drums and Recorded Drums on track 2. What I Needed, 3. Ways to Hate, 4. Bounce
Jesse Elkins – Recorded Drums on track 1. Killing Me, 5. Be, 6. Road of Doom, and 7. Life's So Good
About The Author