Set to unleash their debut album "Krötch Splitter", Red Deer, AB's Hooker Spit have another single to drop before the full-length officially releases on July 28th. Having already shared two previous singles "Call of The Void", and "White Lighter", the band is ready to introduce fans to another grooved-infused thrasy death metal track entitled "The Huntsmen". The band explains it further.
"We really wanted to write a song with a clean intro and it evolved into an upbeat and melodic death metal song. The song discusses the struggle of life and having the strength to move through to reach the truest expression of self. Overall it's about living your best life, it's about pushing through adversity and accepting that you will lose people along the way. We really wanted to write an epic song that had a wicked clean intro while taking you on a journey through some fantastic harmonies, solos, and breakdowns."
Listen to "The Huntsmen" via its premiere on Bravewords HERE.
Filled with heavy chunky riffs, guttural vocals, and destructive drum grooves, Hooker Spit have developed a sonic quality and episodic visual concept that is so unique to them, it can be immediately recognized as their own. Their forthcoming seven-track album "Krötch Splitter" is an appetizing sampler of what the band is all about, and will attract fans across the death metal spectrum from the classics to the modern.
Hooker Spit cites that they are still discovering our sound but feel that they are gravitating towards something they are already very happy with. They try to infuse groove into death metal while also presenting something with a little bit of thrash. The sound will continue to evolve over time as all bands do, and aim to stay consistent in creating something unique to them.
In a collaborative effort, guitarist Vlad Gligor creates the core riffs of the songs. After that, the initial rough draft is formed into what will be the final version of the music, adding harmonies, melodies, rhythmic bass lines, and slamming drums. Finally, vocalist Dan White creates a vocal melody and lyrical content.
Groovy and interesting, Hooker Spit puts a creative spin on the expected death metal formula. Their music is recommended for fans of Lamb of God, The Black Dahlia Murder, and Blood Bath.
"Krötch Splitter" is due out July 28th, 2023, and available for album pre-order at https://hookerspitofficial.bandcamp.com.
First single – "Call of the Void" – YouTube – https://youtu.be/DpEi9clVS_Q | Spotify​
Second Single – "White Lighter" – https://youtu.be/uxAUg6qboXY | Spotify​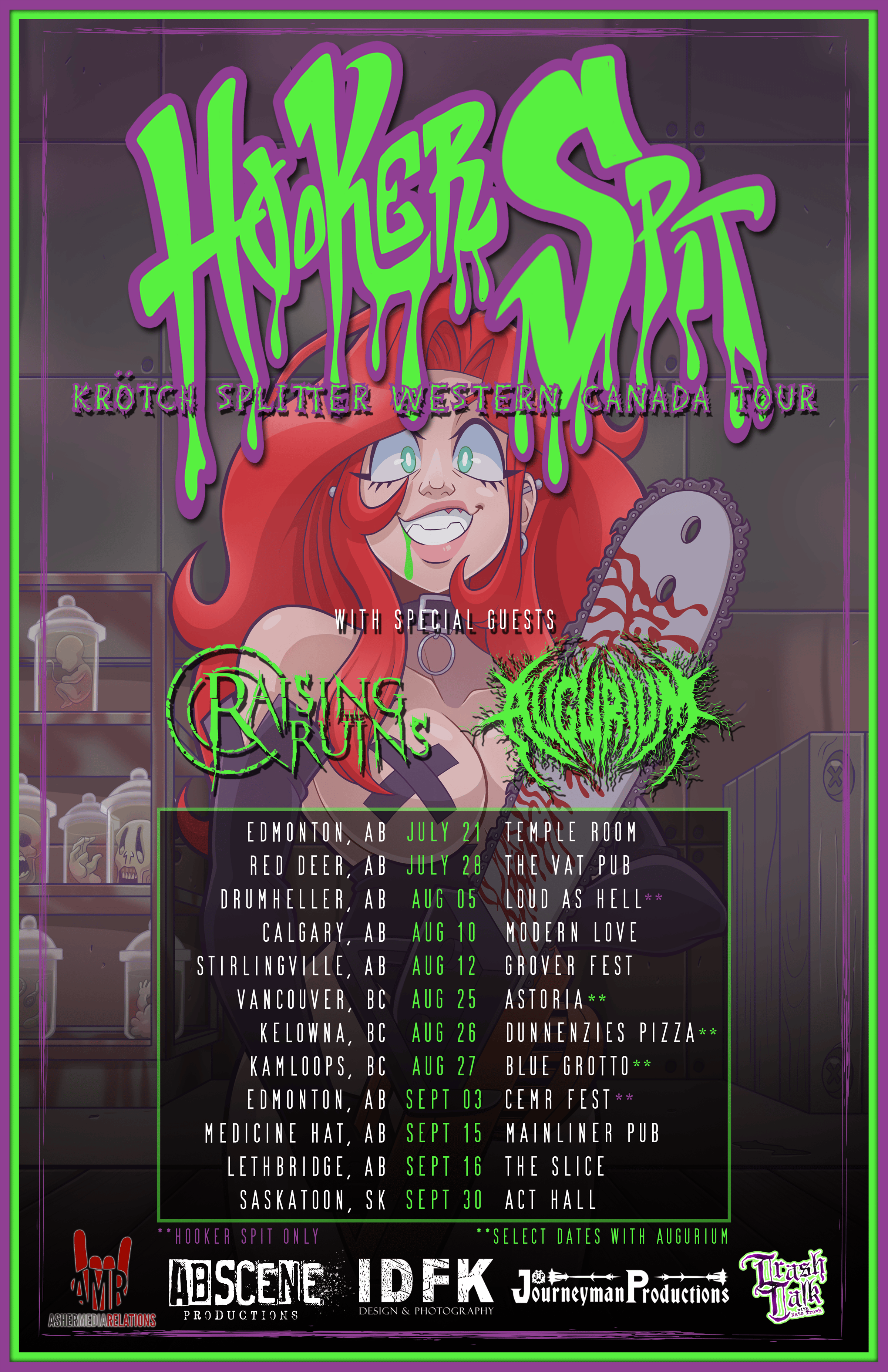 ​
Tour Dates:​
July 21 – Edmonton, AB – Temple Room
July 28 – Red Deer, AB – Vat Pub
Aug 5 – Drumheller, AB – Loud as Hell Festival **
Aug 10 – Calgary, AB – Modern Love
Aug 12 – Stirlingville, AB – Grover Fest
Aug 25 – Vancouver, BC – Astoria ++
Aug 26 – Kelowna, BC – Dunnezies Pizza++
Aug 27 – Kamloops, BC – Blue Grotto ++
Sept 3 – Edmonton, AB – CEMR MetalFest** (fest canceled)
Sept 15 – Medicine Hat, AB – Mainliner Pub
Sept 16 – Lethbridge, AB – The Slice
Sept 30 – Saskatoon, SK – ACT Hall
Legend: – ** Hooker Spit only, ++ Select Dates with Augurium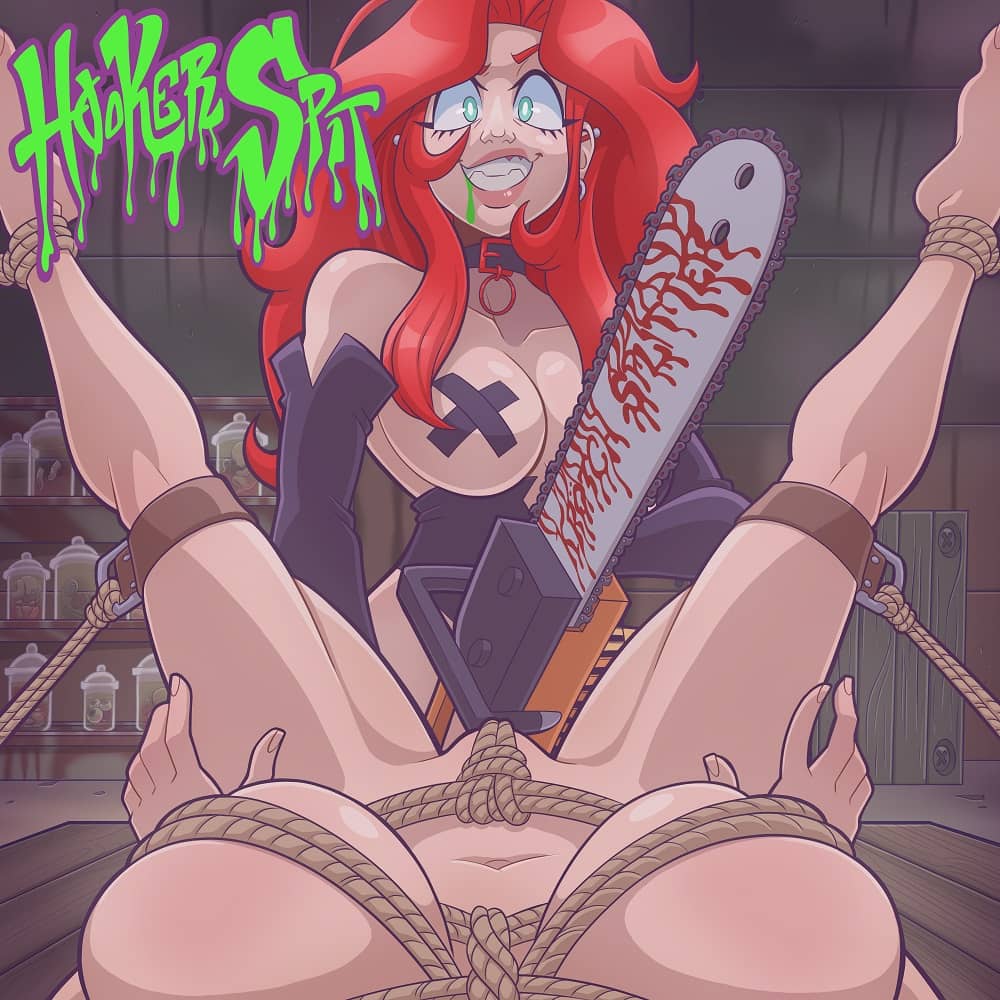 ​
Track Listing:​
1. Call of the void – 3:13
2. Corpse Grinder – 3:18
3. The Huntsmen – 4:06
4. Krötch Splitter – 3:48
5. Flesh Feast – 3:55
6. Dry Fisted – 3:34
7. White Lighter – 2:54
Album Length: 24:02