Israel's Sinnery is about to burn up the thrash metal scene with their new EP "Below the Summit". It picks up where 2022's "Black Bile" left off, continuing their self-actualization journey through searing guitar work, pummeling basslines, and vocals that cut through like a razor. "Below the Summit" is a very fast-paced piece of music where a lot is happening all at once. It's a journey further into the minds of Sinnery, the music and lyrics are a barrage of exactly what they feel in the most authentic and exaggerated way pummeling the listener with a wall of intensity. It is a very human experience that has been etched into this recording, detailing the strange times we are currently living through. The band comments:
"We are thrilled to get our new EP "Below the Summit" out to listeners! This record marks another important milestone in our lives and careers as we continue to explore further and expand the horizons of what Sinnery's music can be. BTS is a moment in time when we didn't know exactly how things would turn out for us, we were isolated in our homes when we began writing this, sharing ideas from afar. It was a special experience for us to write this record like this and we feel like we really put that into it."
In this EP, Sinnery introduces new drummer Liam Fine who has written and recorded on the EP all while learning the band's older material. In just four months Liam learned 19 songs and wrote four more. Doing so much all at once is probably the most "Sinnery" thing that could have happened to anyone joining in.
"Below the Summit" was mixed and mastered by Arie Aranovich and the album artwork was done by Xul1349 and inspired by a famous Japanese painting called "Thunderstorm Beneath The Summit" by legendary artist Katsushika Hokusai. The EP is recommended for fans of Sylosis, Metallica, and Power Trip.
Listen to "Below the Summit" in full via its stream premiere on NoCleanSinging HERE.
"Below The Summit" is due out on September 29, 2023, via Exitus Stratagem Records
Vinyl – https://www.exsrmusic.com/store/p/sinnery-below-the-summit-ep-vinyl​
CD – https://www.exsrmusic.com/store/p/sinnery-below-the-summit​
Videos:
"Share This" (Music Video) https://youtu.be/Yf5of0iJ_mw​
"Somber" (Animated Music Video) –https://youtu.be/YD4BYI4xERE​
"An Ode" (Music Video) – https://youtu.be/HbUU3dXVNKo​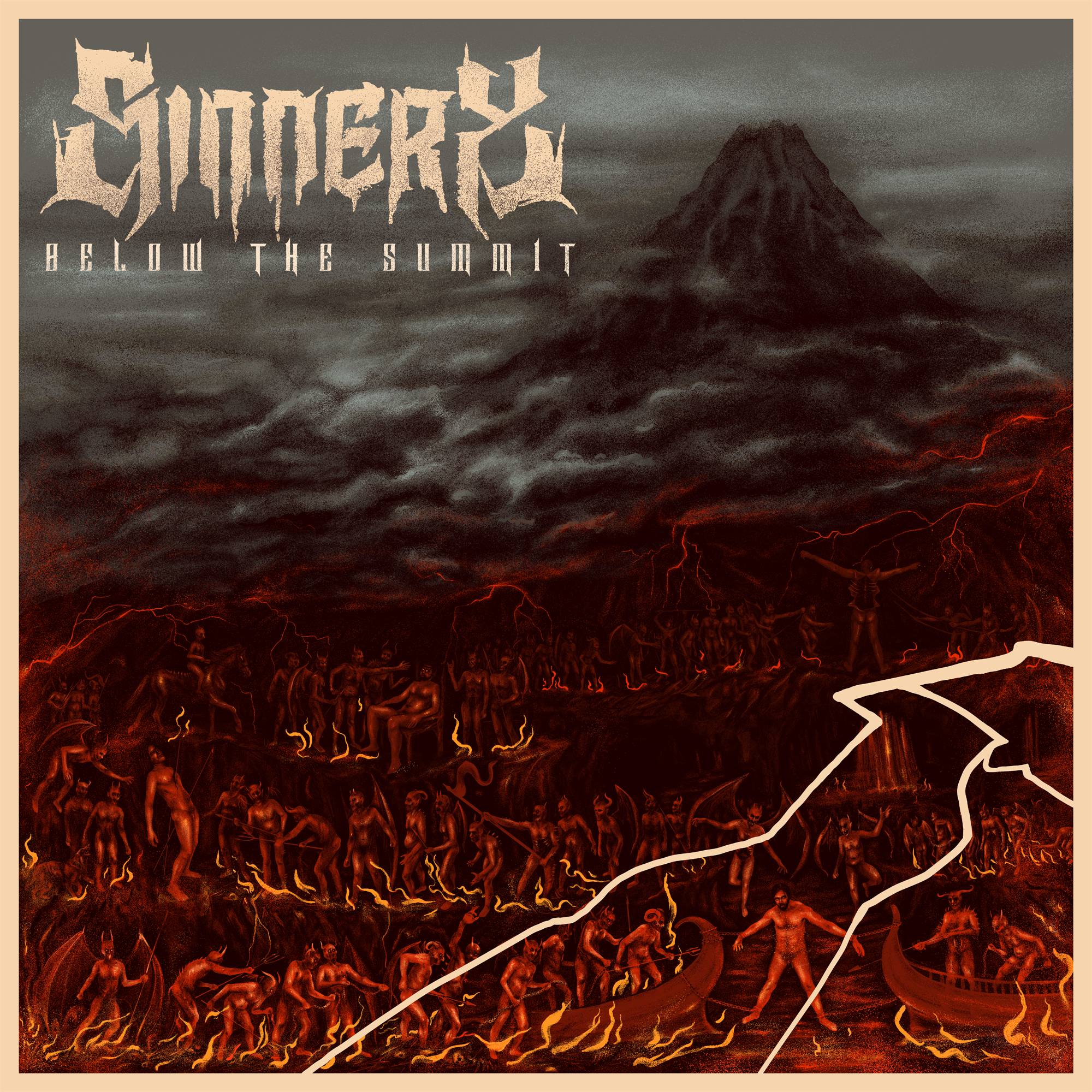 ​
Track Listing:​
1. Somber – 3:27
2. An Ode (Knife Of Erato) – 5:16
3. We Just Want You To – 0:21
4. Share This – 2:19
5. Serene – 5:13
EP Length: 16:38
​
​EP Recording Credits:​
• All songs performed by: Sinnery
• All songs written by: SInnery
• Produced by: Sinnery
• Mixed by: Arie Aranovich
• Mastered by: Arie Aranovich
• EP Artwork by: Xul1349
​
​EP Band Lineup:​
Alon Karnieli – Vocals & Guitars
Idan Kringel – Guitars
Saar Tuvi – Bass
Liam Fine – Drums
About The Author