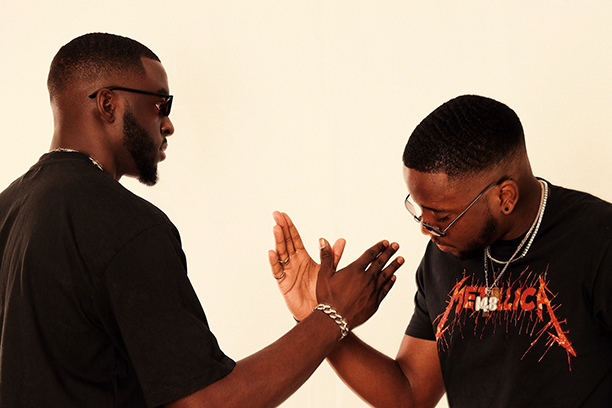 Lagos, Nigeria-born now based in Toronto, ON duo 148 — Suertudo and McQueen — continue to uplift and inspire while refusing to be painted into any corners with the release of their new single "Double Trouble" and sophomore EP, Blue Moon — available now!
"'Double Trouble' was created in a studio bedroom with our longtime friends and producer, Jms," Suertudo recalls of the song's earliest start. "It was made on pure vibes, in anticipation of the 2020 summer.
"This was before the world as we knew it fell apart!" McQueen adds. "But, in the midst of the pandemic, finishing this song kept us in good spirits."
Those good spirits and the decidedly unique circumstances around them propelled 148 to create a body of work around the song; the result is their second EP release, Blue Moon.
"Blue Moon is an abbreviation of the famous saying, 'once in a blue moon,'" Suertudo shares. "We wanted to build off of the astrology theme from our debut EP, Dark Matter, but also find a name that symbolized where we stood in our development.
"After the release of Dark Matter, we felt like everyone we met wanted to paint us in a corner," McQueen considers. "People would advise us to either stick with rap or afro beats, or on some occasions even, try and convince us our sound was not 'it.'"
The experience wasn't unexpected, per se, but that didn't make it any less of an affront. Originally based in Nigeria, 148 have been dubbed as pop, Afro-swing-beat, hip hop, funk, world, and R&B.
They ask, however: how about no genre labels at all?
"Before we began our journey, we always knew we would have to break the mold of what we were to become who we were meant to be," Suertudo says. "That same mindset now allows us to not only feel comfortable but also excel in the grey area of having no genre.
"Every new beat is an infinite landscape, and every melody created is a free flowing stroke of a borderless paintbrush. Blue Moon symbolizes the empowerment we achieve from extending the limits of our own creative freedom."
"We no longer play by the rules of society or the guidelines we placed on ourselves due to past insecurities," McQueen nods. "Now we strive for our reality to be an extension of our dreams and desires.
"We believe that each person is 'once in a blue moon,'" Suertudo continues. "It goes without saying that no two people are the same but, as human beings, the majority of us choose to walk down well-known paths to achieve a brand of happiness that has been marketed to the masses for decades, if not centuries."
"We hope to inspire others to break their mold and let loose their inhibitions to discover their own brand of happiness and joy in this life."
"Double Trouble" and Blue Moon are available now.
About The Author