Horrorwish, a passion for horror and the dark macabre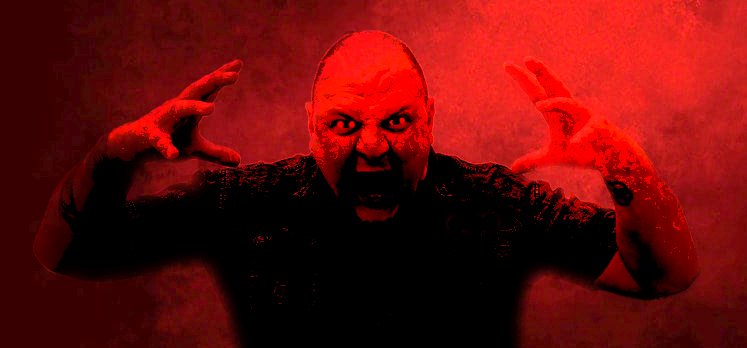 In the autumn of 2019, the HORRORWISH project was created by Belgian musician/producer Gio Smet.
Known from other bands/projects such as Gitaron, Giotopia and Wolfpact plus collaborations with musicians such as Fabio Lione (Rhapsody), Ralf Scheepers (Primal Fear), Herbie Langhans (Avantasia, Firewind) and Apollo Papathanasio (ex-Firewind), Gio Smet wanted to combine his passion for horror tales with dark and intriguing metal music. Thus, giving birth to something new and innovative within the metal scene.
It's hard to compare HORRORWISH. The guitars are dark, fat and "fleshy". Together with a deep and monstrous bass guitar, it results in a massive and horrifying sound. The raw and uncut vocals fits the macabre tunes perfectly.
On April 3th, 2020, the debut album 'NO PLACE TO HIDE' was released. The album features thirteen haunting metal songs, each one telling a grisly tale that sends shivers down the spine.
Musicwebzine – Hi guys , who is Horrorwish?
Gio: "Hello guys! Thanks for having me on this interview! Well, I founded Horrorwish in the autumn of 2019. I wanted to combine my passion for horror and the dark macabre with music that would translate that dark and horrifying vibe. That way, I believe Horrorwish brings something different in the rock and metal scene. I love it when songs tell a story and that is exactly what Horrorwish does. It's hard to compare Horrorwish. The guitars are dark, fat and "fleshy". Together with a deep and monstrous bass guitar, it results in a massive and horrifying sound. I think, the raw and uncut vocals fit the macabre tunes perfectly. For Horrorwish, I play and record all instruments myself, including the vocals. There was a period when I decided to form a live band for the project, but the Corona pandemic made that kind of impossible. I don't know what the future brings though, but for now it remains a studio project."
Musicwebzine – Tell us about your latest single release?
Gio: "It was clear from the start that "Pretty Boys Must Die" would be the first single for the album. The upcoming album, 'Tales from Death', contains all songs that are based on true horror events. "Pretty Boys Must Die" is based on of the most legendary serial killers of all time, John Wayne Gacy, also known as the "Killer Clown". It's a slow/mid tempo "sluggish" song with deep guitars and a low, fat bass, which results in a dark sound. You can really "feel" the sound and the vibe of the song. The lyrics are also dark and captivating, telling the story of the life of John Wayne Gacy and his horrible crimes."
Musicwebzine – Can you anticipated something about the album ?
Gio: "The album, 'Tales From Death', will be released on Halloween, October 31st. The perfect time to release this horrifying piece of work, I believe. The songs on the album are based on true horror events. Think John Wayne Gacy, Jeffrey Dahmer, Jack The Ripper, the mysterious death of Elisa Lam at the 'Cecil Hotel',… I wrote the lyrics together with my love, my muse, Linda Roosens (www.lindaroosensart.be). It really was an intense and confrontational period, writing about all those horrific events. It makes you think about certain aspects in life. The result is, to me, absolutely stunning and captivating though. 'Tales from Death' is not for the faint hearted. I am really proud of this album."
Musicwebzine – What is your favorite song and why?
Gio: "That changes every time I listen to the album, haha! They are all great songs to me. I think it depends on the mood I am in at that time. The single "Pretty Boys Must Die" is one of my favorites, that's for certain. But on the other hand, I think "Dark Water", "The Taste of Forever" and "Vade Retro Satanas", which respectively are based on the death of Elisa Lam at the 'Cecil Hotel', Jeffrey Dahmer and "The Exorcist", are really cool songs as well. But like I said, I like them all equally in a way. They all have the right, horror vibe."
Musicwebzine – Which bands influenced your style?
Gio: "I grew up with bands like Black Sabbath, Uriah Heep, Deep Purple, Rainbow, Dio, Queen, Iron Maiden, Helloween,… So I think there will always be some influences of those "classic" hard rock and heavy metal bands in my music. I do think Horrorwish has a more "modern" sound. I always try to be innovating though and I don't like to be "placed in a box" sort of speak."
Musicwebzine – How many stile we can listen in your music ?
Gio: "As mentioned before, there are some "classic" hard rock and heavy metal vibes in my music. Sometimes, some power metal stuff as well. I also think that the vocals give it a more "modern" or "doomy" touch, as they are really gritty, sometimes low and dark."
Musicwebzine – How do you consider the Metal scene in your country?
Gio: "It is a lively scene here in Belgium, I believe. There are really some great bands. On the top of my head, I really think bands like NOORD, A Sweet Suffering, La Nausée, Eleven-O-Seven, High Inquisitor Woe, Deafcon, Catharsis, FleXanT,… are very impressive both live and in the studio. The latest NOORD album "Cryptosis", for example, is an absolute masterpiece and deserves every recognition, in my opinion. But also La Nausée's latest EP "They Prey" is totally awesome and definitely worth checking out. We have some real talent here in Belgium."
Musicwebzine – Which musician would you like to put as a guest for a record?
Gio: "Well, to "dream big", I believe it would be awesome if Bruce Dickinson would sing one of my horror tunes. I remember when Bruce sang "Into the Black Hole" on the Ayreon album 'Universal Migrator – Part II' and that was some dark shit! That vibe would be perfect for a Horrorwish-song."
Musicwebzine – Say hello to our readers with a message
Gio: "Hello to all the passionate readers out there! Check out the upcoming Horrorwish album 'Tales from Death' on October 31st, which will be the perfect setting for a haunting Halloween night! Stay safe and follow your metal heart!"
About The Author